About Ho Chi Minh City
About Ho Chi Minh City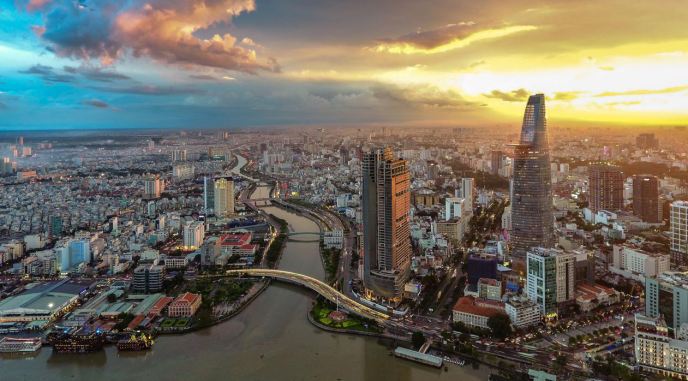 1. Ho Chi Minh City
Ho Chi Minh City, also known by its former name of Saigon, is the most populous city in Vietnam with a population of 8.4 million. Located in southeastern Vietnam, the metropolis surrounds the Saigon River and covers about 2,061 square kilometres. Today, Ho Chi Minh City is a popular tourist destination due to its fascinating culture, classic French architecture, and sleek skyscrapers as well as ornate temples and pagodas. The city is also filled with rooftop bars that overlook Saigon and beyond, while fantastic restaurants offer a combination of French, Chinese, and, of course, local Vietnamese cuisine.
2. Average Weather in Ho Chi Minh City
The city has a tropical climate, specifically a tropical savanna climate, with an average humidity of 78–82%.[32] The year is divided into two distinct seasons.The rainy season, with an average rainfall of about 1,800 millimetres (71 in) annually (about 150 rainy days per year), usually lasts from May to November. The dry season lasts from December to April. The average temperature is 28 °C (82 °F), with little variation throughout the year. The highest temperature recorded was 40.0 °C (104 °F) in April while the lowest temperature recorded was 13.8 °C (57 °F) in January. On average, the city experiences between 2,400 to 2,700 hours of sunshine per year.

WHAT TO WEAR
It is hot and humid so we suggest that lightweight clothes in natural fibers (linen, silk or cotton) will be most comfortable. light wool is a good choice to wear against your skin as it naturally helps to regulate your body temperature. Rain is frequent, so lightweight clothes will also dry more quickly. T-shirts and shorts are perfectly acceptable, but avoid skimpy or revealing clothes or you will get unwanted attention. Wear sunglasses and a sunhat.
3. Electricity
In Vietnam the power plugs and sockets are of type A, C and D. The standard voltage is 110 / 220 V and the standard frequency is 50 Hz.
4. Currency
Vietnamese currency is called the "Vietnamese Dong" and is represented by VND in any of the Currency Exchange calculators. The exchange rate currently hovers around 20-21 000 Vietnamese dongs for $1 USD and everything else fluctuates relative to that.
Vietnamese Dong notes come in the following denominations: 500 000, 200 000, 100 000, 50 000, 20 000, 10 000, 5000 , 2000 , 1000 and 500. You will rarely see any of the 500 notes and you may receive candy in your change at the supermarket in lieu of these.
Vietnamese Dong coins come in the following denominations but are very rare to come by 5000, 2000, 1000, 500 and 200 VND.
5. Tipping
Tipping is not customary in Vietnam though it is highly appreciated. In fact, tipping is not a habit of the citizens, unless you go to spas for a massage or upscale restaurants. In this case, it can be said that the country's culture of tipping is still in its infancy.
However, tipping has become more regular in Ho Chi Minh City. More and more high-end services include a service fee in their customer's bills, ranging from 5% to 15%. Unfortunately, this money does not always find its way to the service staff. Therefore, if you do receive a service that completely exceeded your expectation, then a tip is welcome.
6. Things to know
(1) Don't wear a lot of jewelry or show valuables in public, especially when in Ho Chi Minh City. You will be a target for pickpockets or robbers.
(2) You should pay attention to around things when you go fast when crossing the road, and can use eye contact with approaching drivers and going with the locals will be the best choice.
(7) Do not go out alone when it is too late, or in a secluded place.